Communicating The Message
Liz has represented brands large and small, including Visa, Sprint, Audible.com, Publix, Univision, Philips, Priceline, LifeFone and The Scooter Store. She narrates most of the Fresh From Florida ads aired in the Southeast. Her work includes:
TV & radio commercials
Corporate training videos
Product & company videos (including on-camera work)
IVRs
Live and re-recoded event announcing
Book Narration
Film dubbing
Clients describe her voice as warm, friendly and sincere. What she says rings true to their audiences and has been shown to drive measurable results.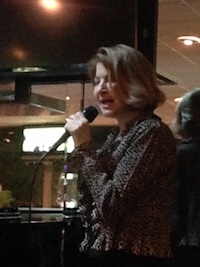 Liz brings her skills as a singer in voice acting, using intonation, phrasing and rhythm to make your message memorable, and to bring audio books to life.  She also brings her experience as a marketing and communication professional; she shows up prepared and on time, and helps you get the job done quickly.
Liz speaks Castilian Spanish and has some proficiency in Italian. She studied singing at the Hart School of Music in Hartford, Connecticut, has a B.A. from Tufts University and an M.B.A from Columbia University.
To request a quote, please fill out the contact form, or email her at lizsounds@gmail.com.
0:00/1:00

0:00/1:03

0:00/0:29

0:00/0:30

0:00/0:59

0:00/0:30

0:00/0:37

0:00/0:48

0:00/0:53

0:00/0:59

0:00/1:12

0:00/0:30

0:00/0:30
Highlights
Listen to my narration for the book
Special Forces Rendezvous: The Hunted
, part of an action-packed romance trilogy by Elle Kennedy
published by Harlequin. You can hear an excerpt, or purchase it at
Audible.com
. 
---
Listen to some sample spots from the Fresh from Florida campaign I have been voicing since 2013.