Following The Dream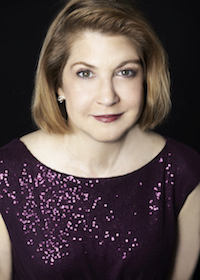 I was born in Boston, grew up in West Hartford, Connecticut. I began singing in school choirs in elementary school, pursuing solo opportunities wherever they existed, including leads in musicals in high school and in summer theater. I studied voice at the Hart School of Music until I left for college at Tufts University. That's when music slowly ground to a halt, replaced by all things "practical" -- an economics degree and a corporate career path that took me to Columbia University for an
MBA and a career in financial services in New York City.
For a while, languages substituted for music, as I became proficient in Italian and semi-fluent in Spanish. Eager to focus on Spanish and ready for a change, I moved to Miami in 1999 to explore new cultures and manage a line of business in the credit card industry in Latin America and the Caribbean. Responsibilities changed and grew, but one thing never went away - my love and longing for music. And performing. Unfortunately, a night here and there on stage doing karaoke with pats on the back from surprised friends – and strangers - wasn't enough. In fact it made things worse. So in 2009, I threw caution to the winds and embraced the thing that makes me happiest – developing and sharing my voice with the world.
I believe that if you do what you love, success and happiness will follow. If my story can inspire even one person to dare to live your dream, then it's all worth it. And if I can entertain you along the way, even better.
Comments From Fans
Bravo! Like a dram of single malt, smooth and vintage. Love your voice.
-JakeStorm

This video is great ! Your voice is Amazing. You are so beautiful. I really enjoyed it.
-DPerridy

Congrats and many thanks for sharing it with me.
Love, Delphine

Wonderful voice! fun, warm... way to go congratulations!
-peterarpesella

WOW! Impressive! Lovely sexy voice. You are a very talented singer. Congratulations and best wishes!! T :-)
-tanyacasta

Outstanding and amazing in every way! Your voice is absolutely beautiful. I'm so proud of you and honored to be your friend. Go for it girlfriend!! xoPW
-pwindle22

Hey Liz,
Very nice video. What's next?
-Pepp

... a unique , precious gem ... yet nearly undiscovered on youtube
-Claudio Z

Nice job Liz--You made this song your very own :o)
-Dale P