The pandemic afforded me a chance to revisit my bucket list, and I began to write for fun. Fun turned into my debut novel, Alice in Condoland. I hope you enjoy it. If you want to know when my next book will be published, please visit my contact page, where you can sign up to be notified. 
Alice In Condoland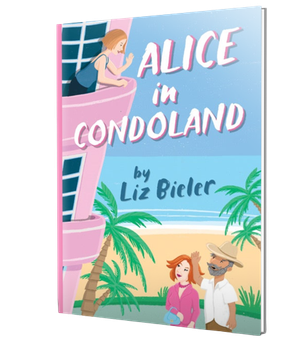 Alice Miller is an idealistic young woman who leaves the New York rat race in search of a more passionate and authentic life in South Florida. Her Manhattan salary affords her an ocean-facing condominium and luxury beyond her wildest, Upper West Side dreams. Those dreams, however, become a nightmare when she discovers corruption everywhere—in the news, at work, and in her new building, where self-dealing managers blatantly misuse her hard-earned cash. How can she fight back—and win—against pervasive fraud?
Fully appreciative of the often-comical multi-cultural swirl around her, Alice meets a series of characters—the Champion, Sherlock Holmez, Joanna Rivers, and Florence Nightingale—who become her friends. Working together, they bridge Condoland's English/Spanish divide. The Jews, Latins, and Latin Jews of Condoland join forces, launching an all-out campaign to overthrow their Board of Drektors. In the midst of this struggle, Alice blooms. She reassesses her life, relationships, and career, leaving behind what no longer serves her. By eschewing the opinions of others, Alice builds self-confidence to pursue her happiness.
BOOK CLUBS:
If you would like a virtual appearance at your book club, email liz@lizbielerproductions.com.
PODCASTS:
From The Heart On Blog Talk Radio. by T Love. April 19, 2023
Endorsements, Reviews, and Coverage

"Laugh out loud funny. . . Liz Bieler has created a diverse collection of characters led by a likable heroine that entertain and educate the reader throughout. . . . One of those hard to put down books that cross my path from time to time. . . . I loved this book." — Kevin Cannon, Reedsy Discovery
"Bieler's delightful romp of unlikely characters through a wickedly funny condo has laugh-out-loud moments and a thoroughly satisfying ending. Anyone living in a condo, or who knows someone who is, will recognize the intrigues, infights, and friendships of condo living and will cheer Alice as she navigates this wacky world."   - Susan Sussman, author of The Dieter and Miami Iced
Liz Bieler takes you deep inside the world of condo politics, Florida style. You'll fall in love (or hate) with each of the deliciously described characters and their various adventures. Written with heart, pathos, and a lot of Jewish humor, Alice in Condoland reads like a movie, and it will surely become one."   -Dr. Frank Luntz, author of New York Times Bestsellers Words That Work and What Americans Really Want . . . Really
"Amusing plot . . . witty narration . . . precise, hilarious caricature . . . and crack comic dialogue that keeps the pages turning. . . . Perfect for readers looking for a beach read with memorable characters but real-world problems."   -Booklife Reviews