Singing Is Connecting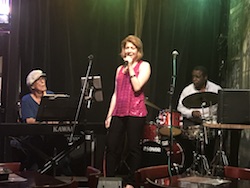 Recently, a friend called to tell me that her mother had been listening to a recording on this website to distract her from her husband's illness, saying:
"I listened to Liz sing 'I'm Beginning to See the Light' all morning, again and again, and she saved me!"
This is why I sing. I believe that each of us has the responsibility to leave this world a better place than we found it. Through singing, I make a small difference. Performing, I see the impact in real time: A man putting his arm around his wife, an elderly couple getting up to dance, smiles, feet tapping, or a young man telling me how much I moved him after a gig.
Songs are stories told to music. The right music with the right lyrics has the power to take us to places and memories where words alone will never go.  
I love jazz because of the creativity it affords the artist and the anticipation and excitement that new interpretations give to the listener, never knowing what s/he will hear next. Jazz demands that each artist make every song his or her own. It's America's unique contribution to world music. I sing songs in English, Spanish and Italian – but the language doesn't matter. What America started, the world has embraced.
The American Songbook tells stories of love – the hope, the joy, and the heartache. The lyrics are never vulgar because love isn't vulgar. Our songbook is alive and evolving, and it's here for you to enjoy.  
I like to mix it up in a set. My shows run the gamut ranging from swing to ballads to blues, with songs old and new. Jazz is a style. It's a feeling, and it's timeless. Jazz is more than a style of music; it's a verb and an adjective as well. When we jazz something up, we make it exciting. When something is jazzy, it is unrestrained, animated and full of sparkle and flash. To me, jazz is an approach to life.
Is there a particular song you'd like to hear me sing? Please email me at lizsounds@gmail.com or leave a note on my contact page with your suggestion(s). Thanks!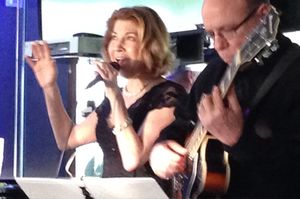 I'm available for:
Clubs/Restaurants
Corporate Events
Private Parties
Weddings